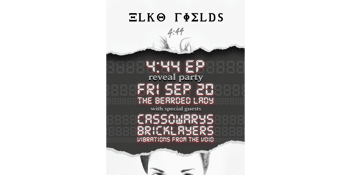 ELKO FIELDS 4:44 EP 'REVEAL PARTY'
The Bearded Lady (West End, QLD)
Friday, 20 September 2019 8:00 PM
ELKO FIELDS is Kella Vee (guitar/vocals) – a female-fronted rock vessel crafting a cut-throat and unforgiving twist to dark blues and garage rock n' roll. A body, morphed to a Les Paul 'Black Beauty', scattering thunderous blues-infused riffs to sweetened sassy vocals. With rock n' roll the wagon to a journey of shredded love, existentialism and cosmic insignificance, ELKO FIELDS oozes rawness and vulnerability. Likened to bands The Dead Weather for her unorthodox approach to rock, Royal Blood for their mammoth live presence, Vee breaks all rules of structure with un-expecting time changes, eerie semi-tone bends, with the essence of Nick Cave and PJ Harvey darkness, slightly brutal, razor-like hair and boots unpolished.
A

fter polishing off EP no. 2 with

Grammy Award winning Producer Nick Didia (Rage Against The Machine, Pearl Jam, Powderfinger)

i

n the blissful studio of Byron Bay, ELKO FIELDS are set to unleash their power-filled rock album to the world. Giving a tantalising taste of what is to come releasing their latest wall shattering single 'Arch Nemesis', ELKO FIELDS are set throw an intimate party to reveal it all @ The Bearded Lady on Saturday 20th of September.
Joining the celebrations on the night are local favourites Cassowarys, Bricklayers & Vibrations From The Void