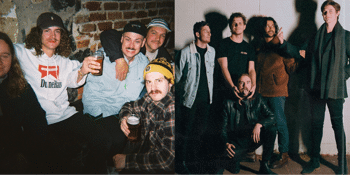 VENICE QUEENS & LONGBOYS
with Frangipani + Not Badd
John Curtin Hotel (Carlton, VIC)
Saturday, 12 October 2019 8:00 pm
Venice Queens and LongBoys join forces in an epic double header Saturday October 12th.

Adelaide five-piece Venice Queens have established themselves as a South Australian music heavyweights and, with no fears of being a small fish in a big pond, the band is diving headlong into the Melbourne market touring their latest single 'Eddie's Castle'.

Having shared stages with Kingswood and Lime Cordiale, as well playing sell-out shows in their hometown, the Queens are no strangers to filling big shoes. They aim to restore rock and roll culture with swagger-fuelled, anthemic rock minus all the bullshit.

Joining VQ are Melbourne locals LongBoys. In the midst of the hustle and bustle of suburbia we find a group of layabouts. In their natural habitat music is created that the local council will refer to as a "noise violation". They soldier on, creating sounds that swing between the rambunctious hooky Hockey Dads to smooth Mac Demarco inspired surf rock. Along the way they've dropped 2 EPs and sold-out quite a few shows.

Catch LongBoys x Venice Queens double-action this October.