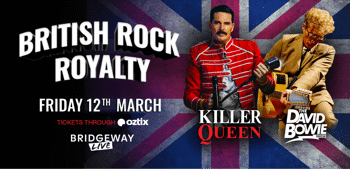 Bridgeway Live
British Rock Royalty - The Music of Queen and David Bowie
The Bridgeway Hotel (Pooraka, SA)
Saturday, 6 November 2021 7:00 PM
BRITISH ROCK ROYALTY
For the first time in Adelaide, 2 of Australia's premier international tribute artists come together for BRITISH ROCK
ROYALTY TOUR.
John Blunt as Freddie Mercury and Wayne Vitale as David
Bowie portray these larger than life music giants in an unforgettable night of hits.
Opening the night as David Bowie, Wayne Vitale will perform all the monster hits of Bowie over the last 40 years.
The night reaches its peak with John Blunt and Killer Queen, performing Queens greatest hits. Recognised as the world's number 1 Freddy Mercury impersonator, John is looking forward to coming back to his favourite city in Australia
The encore will display both artists on stage together.
Don't miss this live 2-and-a-half-hour show, its guaranteed to blow your mind.