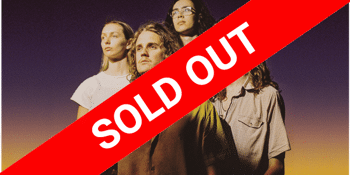 Supersonic presents
Spacey Jane
with special guests
Mandurah Performing Arts Centre (Mandurah, WA)
Friday, 14 May 2021 4:30 pm
It's a brand new year and Spacey Jane are gearing up to make things a little brighter by
taking their debut album Sunlight on a huge tour around Australia.
With numerous shows across the country planned, cancelled, rescheduled and
cancelled again in 2020, the Fremantle four piece are keen to head East once more.
They've kicked off 2021 with a big bang, taking out the #2 spot in triple j's Hottest 100 countdown with "Booster Seat". Three more tracks from Sunlight made the countdown,
with "Weightless" at #81, "Straightfaced" at #28 and "Skin" placing #15 marking a
momentous and celebratory day for the band.
Released in June last year, Sunlight reached #2 on the ARIA charts and was voted
Album of the Year in the triple j Listener's Poll.
The band are stoked to finally be taking the full album on a national tour:
"We're so excited to finally have the opportunity to play these songs on the road! It's been a long time since we've managed to tour Australia, and we're all rearing to go!
These will be our biggest shows to date, in venues we've only dreamed of playing - see
you out there

❤

"