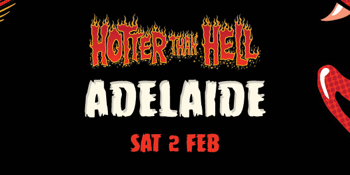 Hotter Than Hell
with Spiderbait, Jebediah, Magic Dirt, Body Jar & Glass Tides
Coopers Alehouse Gepps Cross (Blair Athol, SA)
Saturday, 2 February 2019 2:00 pm
HOTTER THAN HELL RETURNS TO ADELAIDE IN 2019 WITH ITS TOURING CIRCUS OF AUSTRALIAN ROCK LEGENDS: SPIDERBAIT, JEBEDIAH, BODYJAR PLUS EXCLUSIVE MAGIC DIRT REUNION

Last year, Hotter Than Hell embarked on its devilish maiden voyage bringing sold-out festivals to punters across the country and reuniting the biggest Aussie rock acts of the 90s and naughties for the first time since the classic era of Livid, Homebake and Big Day Out. Hotter Than Hell 2019 returns in the traditional December- February festival sweet-spot, bringing together a hellish lineup of legends.

The festival is also ecstatic to announce the mighty Magic Dirt are to re-form especially for the event for the first time in over a decade, making Hotter Than Hell the must-have ticket of 2019.

" Punters right across Australia voted with their ears this year, with an overwhelming demand for the first Hotter Than Hell" comments festival organisers. "Bringing together iconic Aussie rock and taking it to places that often get overlooked by the touring circuit has proven that Australians want their rock and Hotter Than Hell is committed to be the institution that will keep the fire burning year after year."

With Adelaide selling out in hours last summer, tickets for Adelaides 2019 event are expected to disappear in record time when they go on sale this Friday July 20 at 10am. Don't miss out……Summer 2019 will be Hotter Than Hell.