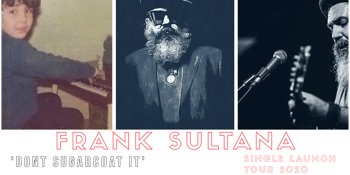 Frank Sultana
Karl S Williams
The Junk Bar's Skukum Lounge (Ashgrove, QLD)
Friday, 17 April 2020 6:00 pm
'Dont Sugarcoat It' is the new single from Frank Sultana, and its a soulful gem of a track, set for release in March.
To celebrate the release, Frank is hitting the road, touring the East Coast through March and April.
He'll be performing his one and only Brisbane show for 2020 at the Junk Bar Skukum Lounge on Friday 17th of April.
His very special guest will be the fabulous Karl S Williams.