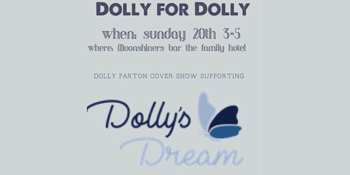 Moonshiners Honky Tonk Bar presents
Dolly for Dolly
Moonshiners Honky Tonk Bar (Tamworth, NSW)
Sunday, 20 January 2019 2:30 pm
Amy "Dolly" Everett was the victim of bullying and ended her young life at just 14 years of age.

Dolly's Dream has been established by her family and friends in her memory. Dolly's Dream will work to create positive change and help prevent the lives of other children being lost while acting as a a voice for those who cannot speak for themselves.

The response to Dolly's story has been overwhelming, especially among rural and regional Australia. And us artists want to help too, we've got together to create a 2 hour show featuring some familiar faces and some noy so familiar faces, singing your favourite Dolly Parton songs.

Come along and support Dolly's Dream efforts to stop bullying. #DoItForDolly

Doors 2:30pm / 3pm show.