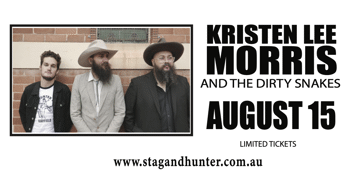 Kristen Lee Morris and The Dirty Snakes
The Stag & Hunter Hotel (Mayfield, NSW)
Saturday, 15 August 2020 7:00 pm
Kristen Lee Morris has forged a reputation as one of Australia's most unique and captivating modern blues/roots musicians. Armed with a rusty guitar and his band of misfits "The Dirty Snakes", his songs cut to the heart and tear the house down.
It is blues music at its core, dragged straight from the swamp, but Morris' songs have a freedom that also encompass the power of roots and rock music. He has also proven that his raw musical grit does not come at the cost of losing lyrical ability. Not content with relying on dense grooves to send his message, Morris' words inject life and emotion into his music that is rarely seen in the world of blues. From Chris Whitley, Neil Young to JJ Cale and Steve Earle – you can hear it all in Kristen Lee Morris' musical stew.
"Australia's own god of the swamp" – Henry Wagons, Double J Radio
In 2014 Morris released his skull-rattling, Kasey Chambers-produced debut album Ruins which struck a chord with blues, roots and rock lovers alike. Here was a guy that could write a break up song and, at the same time, shake the walls.
"Morris blew me away with his raw blues that kicked up metaphorical dust while at the same time cutting an emotional line straight to the heart." – Post To Wire
2018 was the year of Morris' second solo album, a collection of songs that once again re-wrote the rulebook on modern blues. Morris' raw swagger and charm is heard in full flight – so much so that Double J chose the single 'Cowboy' as Australian song of the year on their Tower Of Song program.
Kristen Lee Morris & The Dirty Snakes are the filthiest musical gem to ever be mined from the Australian blues scene. And that's just how they like it.