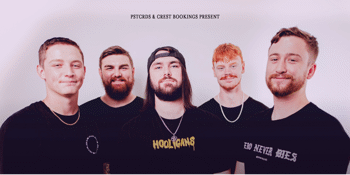 Crest Bookings
PSTCRDS & Everleigh
The Cambridge Hotel (Newcastle, NSW)
Friday, 18 June 2021 8:00 pm
Formed in early 2019, PSTCRDS came straight out of the gate with a unique blend of emo and pop punk, playing their first show to a capacity crowd at the Cambridge Hotel off the back of their debut single 'Someone You Can Be Proud of'. Taking supports for bands such as Windwaker, Rumours, Traces and more, the band quickly followed up with their second single 'Stories' which saw plays and rotation on the Faction and Triple J.

Before the Covid pandemic flipped the world upside down, PSTCRDS released their debut EP 'This Place or Our Pace' which gained them spots on several playlists across the country, reaching over 10,000 streams in the first 6 months and further play on radio stations such as Triple J and the like. With Covid taking over the country for a year, the songs haven't been debuted live until almost a year after the EPs release, so now the lads are back to showcase the EP with a 1-year anniversary celebration.

PSTCRDS will be joined on all three dates by their friends in Everleigh, a pop punk group hailing from Sydney fresh off the release of their new single and music video 'Let You Go'. Also joining them in Newcastle will be Good Thanks and The No Shows, A Swift Farewell and Indigo Point in Sydney, and finishing up in Canberra with Bad Lunar, Hallways and Trace.