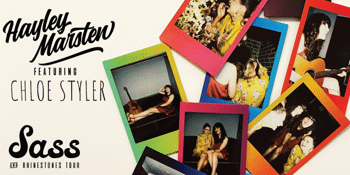 Sass & Rhinestones Tour with Hayley Marsten & Chloe Styler
Vinnies Dive (Southport, QLD)
Sunday, 11 October 2020 4:00 PM
Queensland native and sunstate sass queen, Hayley Marsten has just come off one of the most transformative 12 months of her career. After crowdfunding her debut album with over 270 pledgends, touring the country on her first (mostly sold out) 20 date headline tour, a Golden Guitar Nomination for Alt Country Album of the Year and a Queensland Music Award nomination for Country Song of The Year.
After many kms and state borders crossed, spending time on the road in her beloved home state seemed like a no brainer. Hayley is teaming up with emerging folk-pop singer-songwriter, Chloe Styler (also an amazing Queenslander).
Chloe was just one of 10 finalists in the prestigious Toyota Star Maker in Tamworth where she also opened for Lee Kernaghan. Chloe's previous two singles have been critically acclaimed (song of the day on The Music Network, heavy rotation on KIX Country FM and nominated for a Queensland Music Award). She is currently working on new music after releasing her single 'Sweden' and opening for Tony Hadley (ex Spandau Ballet) last month.
The show is set to be intimate and full of great stories and songs from two of the most exciting talents in country music right now.