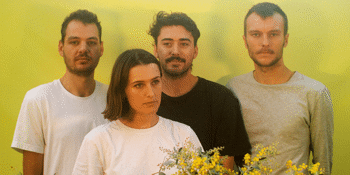 The Wattles
with Big Dog + Iain T. McKelvey and the Midnight Tangos
Waywards (The Bank Hotel) (Newtown, NSW)
Thursday, 21 October 2021 8:00 pm
It's time!! The Wattles are releasing their latest track 'The Noise' and want to celebrate its release with you at Waywards on Thursday July 22nd. They will be joined by the fabulous Big Dog and Iain T. McKelvey & The Midnight Tangos. More on the bands below:
THE WATTLES
The Wattles are a female-led Indie band that walk the line beautifully between light and darkness. The
Australiana
band swims about in concepts of love, anxiety, environmental chaos and more, through moody ballads and swelling Indie rock.
IAIN T. MCKELVEY & THE MIDNIGHT TANGOS
Iain T. McKelvey & The Midnight Tangos are a steamboat chugging purposefully down the Cooks River, dodging discarded bikes and semi-submerged shopping trolleys, picking up whomever thinks they can handle the revelry along the way.
Blending elements of folk, blues, country and classic rock with a penchant for over-thinking, they can move your feet and soften blow of the existential horror of existence.
BIG DOG
Sydney country-shoegaze collective Big Dog chart the dreamier recesses of the psyche with sounds bathed in the warm glow of friendship and the pure pleasure of performance.
Comprising Shane Byrnes on lead guitar, vocals, and bass; Sam Kluge (ex-The Mothers Club) on rhythm guitar and bass; Mark Whittaker (ex- Hopes, Central West) on lead guitar, bass, and vocals; Netta Mae on vocals, acoustic guitar, synths, and bassoon, and drummer Simon Metcalfe, Big Dog is a testament to the unquantifiable alchemy that results from a group of friends embarking upon a shared a creative revelry.
TICKETING INFO
- Do not attend if you are feeling unwell
- All audience members will be required to sanitise & check-in upon entry to Waywards.
- Show will be limited to 110 to allow for social distancing.
The venue will be taking a number of precautionary measures to ensure patron safety, including:
- Hand sanitiser dispensers on entry and throughout venue
- Signage and social distancing markers throughout the venue
- Regular sanitising of the venue and full clean after each day.