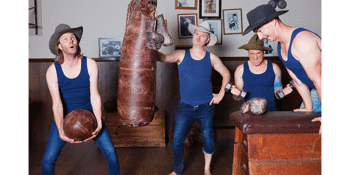 The Pigs & Tanswells Commercial Hotel
The Pigs in Beechworth!
The Tanswells Hotel (Beechworth, VIC)
Saturday, 11 December 2021 8:00 pm
As part of our big warm-up for Gympie Muster.. we're playing just a couple of our favourite venues.
So join us in beautiful Beechworth NE Victoria for our first show in 18 months.. we'll be raw, we'll be fresh from the gym but crikey we'll be happy!
Tix are limited.. but us Pigs'll be UNLimited.
More about The Pigs:
The family that plays together, stays together.. and in the nutty world of The Pigs, family (and beer, and bluegrass) is all that matters.. and did I mention… you're family too.

T-Bone, Stretch, Cousin Shamus, Cousin Bert & Cousin Montz (who plays Banjo of course), last name PIG, love to have fun and their music speaks to that… but also pokes much deeper.. life, love, heartache, Robot Goats even. Expect to be shocked by their dress & hear their many hits - even that one about Moisturiser.
Not sure yet? Ask a friend or look 'em up. thepigs.com.au