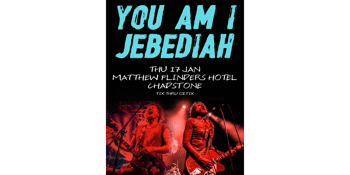 YOU AM I & JEBEDIAH
Matthew Flinders Hotel (Chadstone, VIC)
Thursday, 17 January 2019 7:30 PM
A Double Bill like no other!

Renowned Australia-wide for their live performances, You Am I i made history as the first Australian band to have three albums successively debut at No.1 on the ARIA Charts. Formed in 1989, their two most successful albums 'Hi Fi Way' and 'Hourly, Daily' were voted into Triple J's 'Hottest Australian Albums of All Time'.

Jebediah have been tearing the lids off the biggest Australian festivals for 23 years. Classic Jebediah jams like 'Jerks of Attention', 'Leaving Home'. 'Teflon', 'Harpoon', and 'Animal' owned the Aussie summers of the late 90s and still blast out of every car radio to this day.