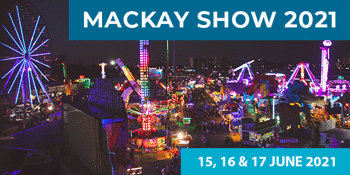 Mackay Show Association presents
2021 Mackay Show
Mackay Showgrounds (Mackay, QLD)
Tue 15 - Thu 17 June 2021 9:00 AM
OPENING HOURS
Tuesday 15th June 9am to 10pm
Wednesday 16th June 9am to 10pm
Thursday 17th June 9am to 4pm

The Mackay Show is part of our local landscape and we look forward another great event in 2021.
The Associations aim is to promote our local Agricultural industries, Arts, Baking, Produce and a Range of Arts & Crafts.

Our 2021 show will be full of events like Showjumping, cattle display, woodchopping plus we have sideshow ally, the exhibits, some fantastic food…including the famous dagwood dog plus don't forget about the fireworks display on Tuesday & Wednesday nights.

Come & bring your family to the Mackay Show, June 15th to 17th for a fantastic 3 Day Show full of events for all ages.