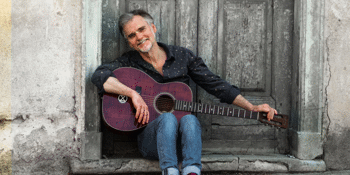 Alex Smith (Moving Pictures)
The Workers Club, Geelong (Geelong, VIC)
Friday, 18 October 2019 8:00 pm
"FLYING SOLO" - THE VOICE OF MOVING PICTURES SOARS AGAIN
Lead singer of "Moving Pictures", Alex Smith will tour East Coast live-music venues in October 2019, performing his new album "The Thread" & celebrating the songs & artists that shaped his youth.
It's a long time since the intensity of the early 1980's, but the passion for singing & performance has never left him. As the younger brother of talented Blues Guitarist, Gypsy Dave Smith, Alex grew up listening to the music of artists like Muddy Waters & Brownie McGhee filtering through his bedroom wall. That deep connection with the rhythms & power of the blues, morphed on to form the backbone of his musical tastes and performance style.
Living his personal history at the heart of the 80's Australian pop scene & as a celebrated vocalist and song-writer, Alex Smith a lot to reflect upon & say. His new CD album release "The Thread" (2018), combines classical inspirations from the ancient myths & powers of the three Fates, with his experience of life lived at full-tilt down through the decades. Alex's trademark skills as a lyricist & songwriter come shining through, while his smooth and original new music, reverberates with themes & storylines we all will recognise.