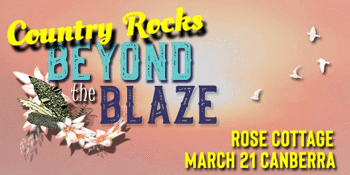 Country Rocks presents
Beyond The Blaze - Canberra
Beccy Cole - Ben Ransom - Tori Darke - Ingrid Mae + more
Rose Cottage (Gilmore, ACT)
Saturday, 21 March 2020 2:00 pm
Beyond the Blaze Canberra



"People Together Create a Community, and Music Brings People Together"

A massive call out to the Canberra and surrounding districts to all stand together and support those much in need after the recent devastating fires in NSW and the ACT. All involved will be donating their time and all proceeds will be donated to the local RFS and the Salvation Army Fire Fund.

Through the power of music we can all join together and make a difference!

Performing on the day Country music legends Beccy Cole and

Ben Ransom

, Tori Darke, I

ngrid Mae

, Danielle Young, Kora Naughton and

Jessica Ferris.
Gates open 2pm