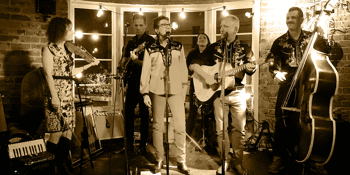 The Western Distributors
Marrickville Bowling Club (Marrickville, NSW)
Thursday, 3 June 2021 7:00 pm
The Happening Thang founders Catherine Wearne and Andrew Travers are back with a new band, teaming up with musical kindred spirit Guy Donellan, and pulling in a stellar lineup of musicians to complete the lineup, including 2018 Musician Of The Year Clare O'Meara.
The Western Distributors offer an eclectic blend of styles, mostly originals with some classics for good measure. A live set moves effortlessly from tear-jerking honky-tonk and atmospheric instrumentals through to swinging dancefloor fillers. They have 2 albums now with the self titled first one from 2017 and the newly released 'Off In The Distance' (March 2020). In keeping with W.D tradition are songs of hope and love, but also tunes about a missing lovers mystery and hopeless destitution.

The Marrickville Bowling and Recreation Club is a COVID-Safe venue.
Tickets will be available on the door on the evening. u18's must be accompanied by a responsible adult.

Held in conjunction with Live Music Australia.