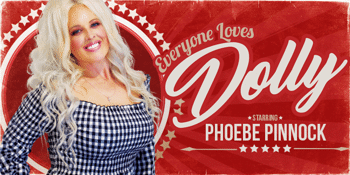 Code One Entertainment presents
Everyone Loves Dolly! – A Tribute to Dolly Parton
Royal Hotel Queanbeyan (RHQ) (Queanbeyan, NSW)
Friday, 15 May 2020 6:30 pm
Dinner service commences at 6.00pm. General Admission Entry at 7.45pm
Dinner & Show packages include entry and a two course meal (Entrée & Main), alternate serve.
*Shared table seating: 1, 2 OR 3 people ticket holders are seated together*
DINNER & SHOW 6PM | GA 745PM
Please note: this show will have limited seating and be standing only, dinner&show tables cannot be joined together on the evening and dinner will be allocated in multiple rooms separate to the show. Each below purchase option will allow you to buy one whole table. Tables may be place together to suit numbers. If you require more than one table per purchase please call our customer service team on 1300 762 545.
Special Needs Booking Information
For special needs bookings (including specific dietary requirements) please contact the venue directly on (02) 6297 1444.
Online Ticket Availability
Dinner & Show sales close at 12pm on the day prior to the event.
Show Only sales are available up until 4pm the day of the event. Door Sales are subject to availability..
-----
"Everyone Loves Dolly" - Starring Phoebe Pinnock
Have you ever wondered about the origins of such amazing songs like "Jolene" and "Coat of Many Colours"? … Or what about those great songs from the movies, "9 to 5" and "I Will Always Love You." Well, look no further as we present for you a brand new cabaret and dinner show entitled, "Everyone Loves Dolly."
This inspiring and hilarious celebration of Dolly Parton's greatest hits is coming to the Brass Monkey. And who better to bring you this show than the highly talented Australian singer and songwriter, Phoebe Pinnock? Phoebe will take you on a ride of songs and stories than span the amazing career of Dolly Parton from her humble hillbilly beginnings to the highly successful mega star she is now.
Written and directed by Peter Cox, "Dolly" is looming to be up there with Peter's many other nationally successful shows, including, "Moonshadows", "The Divine Miss Bette" and "The Great Pizzarotti".
Musically supported on guitar by accomplished musician, Steve Watts, the show will present these great hit songs with truthful authenticity and a whole lotta fun! Guaranteed to get the auidence laughin', dancin' and singin' along!