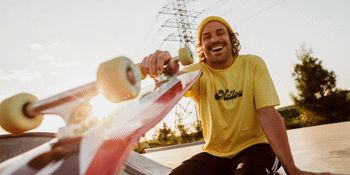 Select Music presents
The Beautiful Girls - 'Seaside Highlife: Greatest Hits Tour'
with special guests
Caringbah Hotel (Caringbah, NSW)
Friday, 6 March 2020 7:00 pm
"I thought it would be easy to put together a 'best of' – how hard could that be?" chuckles Mat McHugh, singer, guitarist, songwriter and founder of the project he launched nearly 20 years ago to which he gave the name The Beautiful Girls. Well as it turned out, putting together a vinyl double-album that represented the very best of the recorded output of The Beautiful Girls from across five albums and three EPs proved a little harder than he ever imagined.
"Often it came down to a choice between what was a popular track and what was a track that artistically I felt held more weight," he explains. "I threw the selection process out on social media and asked for other people's opinion, which was probably a really bad thing to do in hindsight because everyone had their reasons for one thing or another. But it's been a really good exercise. I'm not the kind of person who looks in the rear view mirror too much. When you're in the thick of it you don't really view what you've done for what it is. You just want to move to the next thing as quickly as possible. But having a bit of space to look back on it, it was good."
Right from the beginning, soon after he returned from overseas in 2001 and began recording the songs he'd been writing on a trusty four-track recorder, McHugh has seen The Beautiful Girls as a collective rather than a band, a songwriting project for which he'd bring in players as each set of songs required. "Those tapes ended up in the hands of a couple of friends," he remembers, "who agreed to come and play some shows with me. That was the beginning The Beautiful Girls.
"When I write a song, particularly because I perform all the stuff on these tracks, I just take so many hats on and off. Like, 'Today my job is the bass player and the keyboard player,' and that's it. That's all I think about, and I try and reference bass players and keyboard players that I might like. There are just so many artistic and aesthetic decisions to make at every point that you have this schizophrenic jumping in and out of roles all the time. And then there are the lyrics, which are a whole other perspective, being representative of a kind of sound and a style and a place and a time."
For McHugh, at the core of The Beautiful Girls is that sense of a place and a time and the sound that best represents them. "I'd been playing around forever but The Beautiful Girls as a project became well-known relatively quickly off a certain set of circumstances," he admits, "the timing and the zeitgeist or whatever, because it was all pointing towards this roots music explosion. There were the John Butlers and the Jack Johnsons and we were really kind of in that. The first record I must admit I was so happy that anyone was listening to the music I was making for the first time in my life that I just wanted to stay there, and you can hear that in the early stuff. After that first record, I felt I'd been elevated to a certain position where a lot of musicians who I feel are far more accomplished than me hadn't reached, so I was determined I would work my arse off to try and deserve it. That's when the graft, the hard work came in and I really tried to differentiate this music and the songs from anything anybody else was doing, anywhere really but particularly here in Australia. It just became more and more powerful as it went on. It would get deeper lyrically, production-wise and in everything. It's been a crazy journey."
Across those albums and EPs, The Beautiful Girls have created quite the diverse body of work, but it all somehow fits together within the genre McHugh created for himself – Seaside Highlife.
"I kind of coined that term because, for me, that was the number one goal. To have a sound to call our own. Pretty early on in the piece I felt it wouldn't be authentic to pretend this music came out of Brooklyn or Brixton or anywhere else. It was born of where it was born. Our first shows actually began by jacking into the council power supply at the skate bowl in Avalon, on Sydney's Northern Beaches, throwing massive street parties. My heart is so wrapped up in the culture of east coast Australian beach life, the culture into which I was born and raised, that I thought – okay, what does that sound like? What does my culture that I was immersed in sound like, if I was to mash it all together and make it into some sort of sonic recipe? Punk Rock, Reggae, Hip Hop, Dub, Acoustic, Soul – music that lifts you up and takes you out of your immediate surroundings. I know for me personally, growing up in a single-parent low-income suburb by the beach, the music and the art the culture that our crew of friends created around ourselves elevated us and helped us to transcend the things we really needed some escape from. It made our little World seem a little more magical. We wanted a place we could escape to – no racism, no fashion, no division, no hopelessness, no bullshit, no fake glamour, no violence at home, no minimum-wage jobs, no career anxiety, no rock stars, no judgements, no hatred. Just friendship and music and love. To me, that was the only dream – still is – Seaside Highlife. More life."
"There are a lot of bands that have kind of come out of that sound that, twenty years after the fact, are busy taking it to the World. Ocean Alley were on top of the Australian Hottest 100 just last year, Sticky Fingers are huge, Angus and Julia Stone were influenced through supporting us on their first ever tour – our earliest rhythm section eventually became their earliest rhythm section – and there are a lot of similarities in their early stuff. When we started, our sound just didn't exist. Australia was Grunge and Rock and Roll ! So the whole landscape's changed a lot and looking back on it all I feel like this music, and the art of The Beautiful Girls, has played a big role in all of that. Being staunchly independent and representative of a culture that sonically has had a big influence on a lot of acts, is rewarding after all this time. It feels nice to have had some kind of influence on the landscape.
"When we first went overseas people everywhere, in America and in Europe, Japan, Brazil, everywhere we went, would ask, 'Where does this sound come from? What is this sound? What do you call it?' I didn't have a name for it back then but the first thing I would say, at every show we ever played was 'We're called The Beautiful Girls and we're from the Northern Beaches of Sydney, Australia.' That was my whole approach."
In putting together the double-album, McHugh has essentially drawn three and sometimes four tracks from every release apart from the 2002 Goodtimes and 2004 Weight of the World EPs. So Side One features 'Periscopes', 'Morning Sun' and 'On A Clear Day' from the 2002 debut EP, Morning Sun, rounded out by 'Blackbird' and La Mar (The Ocean)' from 2003's debut album, Learn Yourself, which provides its title track and 'Music' to Side Two, alongside 'We're Already Gone', 'The Biggest Lie' and 'Let's Take the Long Way Home' from the 2005 album We're Already Gone. Side Three delivers 'I Thought About You', 'Spanish Town' and 'Sir, Your Fashion Has The Cold Heart of a Killer' from 2007's Ziggurats album, alongside 'After All This Time', '10:10' and 'B Some Melody' from 2010's Spooks, which also provides 'Don't Wait', opening Side Four, alongside three tracks – 'Until My Kingdom Comes', 'Real Love' and '#1 Stylee' – from 2014's Dancehall Days. The side is completed by an acoustic version of the most recent Beautiful Girls single, 2018's 'Beautiful World'.
"One of the hardest things," McHugh explains, "was trying to squeeze it all in to fit onto the vinyl, because of the time constraints – 22 minutes a side. For the longest time people had been asking for vinyl. There are songs that were left behind that I was sad didn't make it on there, but we're looking at getting the back catalogue all done up and remastered on vinyl so they'll all get their moment in the sun. The Beautiful Girls has never really been a 'singles' band. I have always approached each album by considering every song to be of equal importance, so when a time like this comes, picking favourites is nearly impossible. And then, taking into consideration the lyrical subject matter, the lyrical arc, what each song represents, the message each song had, it was a monumental task. What I really wanted to do with a 'Greatest Hits' is… I really wanted to create a good introduction to The Beautiful Girls for people and what better way than to have it on vinyl? If you've never heard of the band and want to hear it at its highest quality and best sound ever, this is the way."
Pulling together material recorded in various studios under very different conditions over so many years required the ears of a master of the record mastering game, which sent McHugh to one of Australia's best, William Bowden of King Willy Sound.
"I actually couldn't believe how much difference he made. I would take on each project as a separate challenge. The first EP was recorded in three hours but by the time Spooks came around, the production started getting pretty intricate. Every album has been it's own self-contained artistic experiment and recording challenge, so to make that all cohesive… I was sceptical because I thought, 'How is it all going to hang together?' Sonically it's all pretty varied. We talked to a lot of people but William was up to the task, so we sent some stuff down to him in Tasmania and when I got it back I couldn't believe it – an unbelievable difference. I asked him how he did it but he wouldn't tell me! It definitely breathed new life into the whole thing and that lit a fire under me."
In the end of course, it's all about being true to yourself and to what you were feeling in that moment. "One hundred per cent and it's not always so easy because your mind plays tricks on you. I would get to the end of particular albums and it would be such an isolated process, making these records, by design and by nature, that I'd kind of be on the brink of madness by the end, and I'd listen back to it and I'd lose all perspective. Overall I can feel the heart and soul in all of it. It feels like I meant it, and I know that all the decisions I made came from the right place, which from this distance is a nice feeling. I didn't really concede too much; I did what I thought was right and I can hear and feel that, and that's a rewarding victory. That's probably the ultimate achievement for me I'd say.
"Seaside Highlife is representative of a particular era of the band and a stepping-off point for the next one. That's why we put Volume One in the title. To top it off, the artwork features photos from right across The Beautiful Girls' entire career. The first thing we did was design the vinyl cover artwork, because it adds so much to that whole experience of having it in your hands, feeling it and poring over the artwork. I wanted to make it something you'll go back to again and again because it looks beautiful, it feels beautiful – a lot of love has gone into it. There's a whole bunch of photos from across the twenty years that include everyone that's been involved, pretty much – it just looks and sounds great. I'm very proud of it."