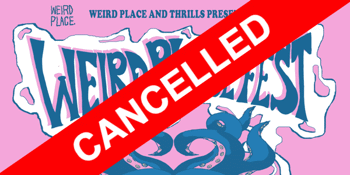 CANCELLED - WEIRD PLACE FEST 4
with Low Life (NSW), Die! Die! Die! (NZ), Hexdebt and more
John Curtin Hotel (Carlton, VIC)
Fri 24 - Sat 25 April 2020 6:30 PM
After the sell out success of the first 3 Weird Place Fests, we are thrilled to announce WEIRD PLACE FEST 4 over two days at The Curtin on the 24th and 25th April!

Once again featuring the best of Australia's punk/psych/rock scene and everything in between plus a few international special guests!

Friday - Hexdebt, U-Bahn, Pseudo Mind Hive, Tsushimamire (JAPAN), Stiff Richards, Arse (NSW), G2G (NSW)

Saturday - Low Life (NSW), Die! Die! Die! (NZ), Nice Biscuit (QLD), Bench Press, Flight To Dubai (NSW), Aborted Tortoise (WA), Gonzo, The Stroppies, CLAMM, Lexicon (QLD), Ascot Stabber (QLD)

VERY LIMITED EARLY BIRD tickets -
Friday - $23
Saturday - $28
2 day ticket - $46

Thanks to Thrills // Moon Dog // Jamesons // Childe Eyewear // Oh Jean Records for all their support.