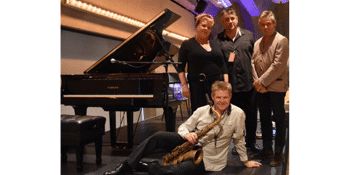 The Fyrefly presents
BEN WATERS (UK) with special guest DEREK NASH (UK) And Band
with Sweet Felicia and Ash Davies
The Fyrefly (St Kilda, VIC)
Thursday, 14 March 2019 6:30 PM
The Fyrefly presents:
BEN WATERS (UK) with special guest
DEREK NASH (UK)
And Band
BEN WATERS - Nominated by Jools Holland as one of his 10 favourite piano players of all time, Ben's performances have been described by the London Times as "like a bouncing castle for grown-ups".
Ben has played in over 25 countries in venues including London's Royal Festival Hall, Royal Albert Hall & Ronnie Scott's Jazz Club; the Sydney Opera House and New York's Iridium Theatre. He regularly tours Europe, Canada, Australia, New Zealand, Scandinavia, the Caribbean and the US. Played with 'flair & bravado' (Birmingham Post) Ben's music is an eclectic mix of early blues through ragtime, jazz, boogie woogie, stride, R&B and the R&R of the 50's & 60's. Along the way he has played and/or recorded with artists such as Jerry Lee Lewis, Chuck Berry, PJ Harvey, Jools Holland, Leo Sayer, Ray Davies and the Rolling Stones.
DEREK NASH - renowned for energetic, vibrant, passionate & charismatic performances on soprano, alto, tenor & baritone sax, Derek Nash has been a featured member of the Jools Holland Orchestra since 2004. Regarded as "at the forefront of the British jazz movement", Derek has been described a "one of the most versatile saxophonists in the UK today" (The Guardian). A member of Ronnie Scott's Blues Explosion he has appeared live or on TV with such as Eric Clapton, Amy Winehouse, Paul McCartney, Solomon Burke, Annie Lennox & Tom Jones.
Doors open/ Dinner: 6:30 PM
General admission: 7:30 PM
The show starts: 8:00 PM

THE FYREFLY
The Fyrefly is St Kilda's superb new dining, music and entertainment room located just down the stairs at Newmarket Hotel. Creature comforts meet sophisticated glamour, with outstanding facilities for the artists to play a huge variety of music styles including jazz, soul, funk, RnB, and even comedy.
OUR DINING EXPERIENCE
Aside from entertainment, an evening at The Fyrefly entails fine dining, top-shelf hooch and classy cocktails. We offer two or three-course dinner & show packages, or you can take your pick from our A La Carte Menu. While our dishes are subject to change, our menu showcases only the best locally sourced ingredients guaranteed to delight your taste buds.
CONNECT WITH US
For the latest music news, events and to go in a monthly draw to win a years worth of shows for free, sign up for our newsletter.
Follow us on Facebook.
Learn more about The Fyrefly on our website.