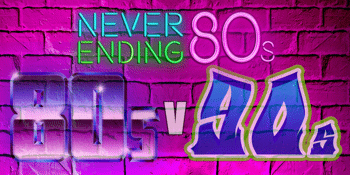 Code One presents..
Never Ending 80s Present: 80s V 90s – Battle of The Decades - Early Show
Brass Monkey (Cronulla, NSW)
Friday, 11 February 2022 5:30 pm
Never Ending 80s presents 80s V 90s - The Battle Of The Decades! Which side will you be on? THE BEST POP HITS of two decades, served up a LIVE, song for song battle and you decide who wins!

Will it be 'I'm Just A Girl' or 'Girls Just Wanna Have Fun'? Our favourite 'Material Girl' or... 'The Spice Girls'? '80's Prince or 90's Jamiroquai' 'Backstreet or Bon Jovi'?