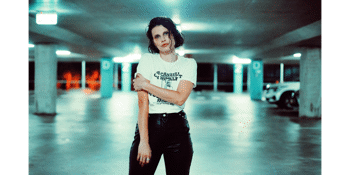 The Gasometer Hotel presents
CANCELLED - Imogen Clark
guest TBA
Gasometer Bandroom (Collingwood, VIC)
Thursday, 20 October 2022 7:30 pm
Western Sydney indie star Imogen Clark will rock the Gaso this October with her full band, fresh off her mammoth 100 Shows in 100 Days which saw her criss-cross the country in the middle of the year.

"It's been such an exhilarating experience getting back out on the road after two years of stop-start shows. My music is all about big feelings and big choruses and there's nothing I love more than getting those feelings coming back at me from you all at shows. I'm playing better than I ever had in my life and I can't wait to blow the roof off the Gaso in October!"

Seb Szabo, who sold out his own Gaso show earlier in the year, will bring his band to the stage as Imogen's special guest. Imogen's music ranges from the intimate to the arena-ready, anthems with the soul of a confessional singer-songwriter. Her latest single Nonchalant, a pop-punk kiss off to an ex who kept her dangling on the line while refusing to commit, is already a live favourite, and the latest milestone for an artist who refused to let the pandemic tamp down her momentum.

Since 2020, Imogen has released critically acclaimed EPs The Making of Me and Bastards, two Christmas singles, a live record, a standalone single single Enemy (co-written with Alex Lahey and featuring a supergroup of players from Middle Kids, Superorganism and Gang of Youths) and launched her now annual Holiday Hootenanny shows, featuring guests including Ali Barter, I Know Leopard, Mo'Ju and Montaigne.

The 26-year-old started 2020 in LA, recording with producer Mike Bloom (Julian Casablancas, Jenny Lewis) and a cast of rock legends, recording The Making of Me and what would become Bastards, which was later finished across the globe from Sydney over Zoom. The EPs form two halves of an artistic rebirth for Clark, featuring her most raw and intense music to date, covering addiction, suicide, misogyny and doomed romance.

Amongst the murderer's row of collaborators on the records include Men at Work's Colin Hay, Dawes frontman Taylor Goldsmith, Rilo Kiley's Jason Boesel and Melbourne indie-pop artist Eilish Gilligan as co-writers, and Tom Petty and the Heartbreakers keyboardist Benmont Tench and Elvis Costello and the Attractions drummer Pete Thomas lending their legendary chops to the recordings.

Cutting her teeth playing in Western Sydney bars during her teen years before touring and recording around the world, from the US to Europe to the UK, Imogen brings the depth and confidence of a seasoned rocker to the stage despite her youth. Taking inspiration from legends like Bruce Springsteen and Joni Mitchell as much as contemporary heroes Gang of Youths and Sam Fender, Imogen's music continues to dissolve the barriers between her emotions and her audience, even as her music and shows get bigger in size and scope.