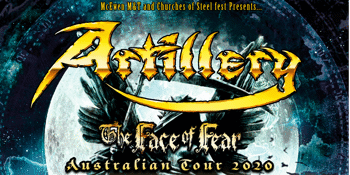 McEwen M&T Presents
ARTILLERY (DEN)
With Special Guests
Crowbar Brisbane (Fortitude Valley, QLD)
Wednesday, 5 February 2020 8:00 pm
Please note Crowbar Brisbane has moved!!!
The Brightside is now known as Crowbar Brisbane and The Valley Drive In will be now known as The Brightside - 27 Warner St, Fortitude Valley. All tickets purchased to shows at Crowbar Brisbane & The Brightside will be honoured at the new Crowbar Brisbane - 27 Warner St, Fortitude Valley.
For the first time in Australia!!!
Denmark's ARTILLERY are easily appointed as one of Europe's earliest exponents of thrash metal, and the band's contribution to the classic genre is difficult to ignore. Delivering a sinister array of riffs, fusing pure aggression and hyper speed with technicality and strong melodies, ARTILLERY are a full throttle thrash inferno. Ready to attack and resonating like a hail of gunfire, this Danish quartet will leave Australian audiences stomped, crushed and battered in the pit!
WEDENSDAY 5TH FEBRUARY
Doors 8PM
CROWBAR BRISBANE 18+