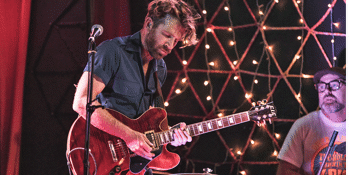 Onya Soapbox
CANCELLED - Owen Campbell
Three Brothers Arms (Macclesfield, SA)
Friday, 15 October 2021 8:00 pm
Owen Campbell has cemented himself as one of Australia's premier alternative blues/rock exports with 3 best-selling studio albums, 2 EPs and over 12 years of national and international touring.
Owen has wowed audiences in all corners of the world from the USA, Ireland, Germany, Austria, Switzerland, France, Spain, Netherlands, Japan, Hong Kong, India and even performed at the highest blues festival in the world, The Himalayan Blues Festival in Kathmandu, Nepal.
Every one of Owen's albums has hit the Top 10 on iTunes Blues Charts in over 10 countries. One of which "Sunshine Road" reached Number 1 on the overall charts (Australia), knocking Adele of the top spot in 2014.
Inspired by the tempo of the ocean, Owen's sound is best described as smouldering guitar work running from bluesy riffs and soulful finger-picking to lap steel guitar solos using a shot glass slide, gritty caramel vocals and a sublime rhythm section.

"A well-honed, ageless style, one that never seems to lose its conjuring powers."
BMA Magazine

"Campbell possesses an exceptional musical personality. You wholeheartedly believe every note he plays and sings."
Rhythms Magazine