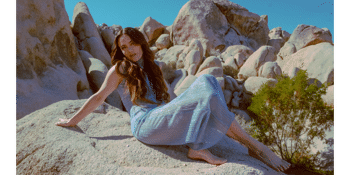 WME
Everything Is Christmas with Julia Stone - EARLY SHOW
Monday, 20 December 2021 6:00 pm
Julia Stone is coming to Hubert to awaken the Christmas Spirit and celebrate the release of her new record Everything Is Christmas!

For Julia, Christmas has always had an element of magic. It is in the scent of an Australian summer - the smell of mangoes, of pine from the dying Christmas tree, of sunscreen and freshly cut grass. Magic is found in the familial food rituals - prawns after a long day at the beach, grandma's pav, mince pies. The magic, too, is in the music - familiar, warm and comforting.
"Christmas music has always been such a beautiful and nostalgic part of my life," says Julia. "This is a record I've always wanted to make. It has been in me for so long. These are some of the very first songs that really got under my skin as a kid. Familiar like that favourite jumper you will never throw away. It has been a dream of mine to make a record of my favourite Christmas songs, with my favourite people."
Everything Is Christmas captures what Christmas means to Julia and undoubtedly countless others across 14 incredibly original renditions of favourites, all drenched in Julia's signature vocal. From the fragility of songs like 'River' and the infectiousness of tracks like WHAM's 'Last Christmas' and Mariah Carey's 'All I Want For Christmas Is You' to the beauty and sincerity of 'Away in A Manger' and mainstays like 'Joy To The World' and 'Come All Ye Faithful', this record is filled to the brim with nostalgia.

Ticket purchase includes one (1) in house white & red wine or beer.