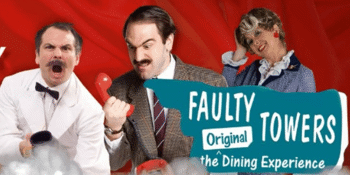 The Faulty Towers Dining Experience
Brook Hotel (Mitchelton, QLD)
Saturday, 20 July 2019 7:00 PM
Faulty Towers is one of the best-known, and most-loved, series from the halcyon days of British comedy. Now with a re-inspired version!
When the audience become diners in the 'Faulty Towers' restaurant, pretty much anything can happen – because two-thirds of the show is improvised. The fun starts as guests wait to be seated. It then hurdles along in a 2-hour tour de force of gags and shambolic service as Basil, Sybil and Manuel serve a '70s-style 3-course meal together with a good dollop of mayhem. Expect the unexpected!
Internationally acclaimed, the show was born in Brisbane in 1997 as a loving tribute to the BBC's best-loved sitcom. Hundreds of thousands of people around the world have seen it since. Today, ten teams of cast working from England and Australia tour around 20 countries a year. The show is also into its fifth year in London's West End, where it holds TripAdvisor's Certificate of Excellence for three years running.
This 5* show that tours the world is 'a two-hour eat, drink and laugh sensation'! Daily Telegraph, UK
3 Course Dinner and Show @ 60 per person. Numbers are strictly capped so be quick to secure your spot fast.