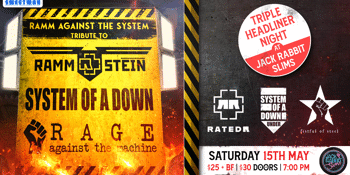 POSTPONED - Ramm Against The System (RATS) a Rammstein, System Of A Down and Rage Against The Machine tribute!
Jack Rabbit Slim's (Northbridge, WA)
Saturday, 15 May 2021 7:30 pm
TRIPLE HEADLINER NIGHT AT
JACK RABBIT SLIMS
SATURDAY 15th MAY

RATED R (RAMMSTEIN TRIBUTE)
SYSTEM OF A DOWN UNDER (SOAD TRIBUTE)
FISTFUL OF STEEL (RATM TRIBUTE)

Rated R:
Emerging from its roots in the darkest German forest, this thunderous tribute act takes no prisoners in its trace. Fallen angels fire godless music up your chase until red tears drizzle upon the face of those who weep. Rated-R will tear through your guts like an armoured tank driven by a cannibal and no piece will ever fit the same. Rated-R is a 6-piece Industrial Rock/Metal Rammstein tribute band that unites a group of established musicians from our disciples of rock Gods. The latest flare to light up the Perth music industry and receive jaw-dropping expression and feedback. This band marries epic theatrical performance with heart thumping renditions of the German bands' repertoire along with the added bonus of surprises in their set, AND as a multitasking - live playing walking treadmill on the stage from the legendary movement by that of himself: Christian "flake" Lorenz.

SYSTEM OF A DOWN UNDER:
System Of A Down Under is a tribute project featuring members of Diamond Sky, Yomi Ship and Wolf Gang Fist. They provide the closest live experience to the might SOAD with all the fun antics, bombastic vocals and instrumentation, and spot-on rendition of hits that will send you right back to your Big Day Out/Soundwave memories.

Fistful Of Steel:
Fistful Of Steel gives you the true live Rage Against the Machine experience, replicating the sound and energy of the best band in the world. From the moment you hear the first queal of the guitar to the last crash of the cymbal, FISTFUL OF STEEL captivates the audience, playing all the hits from RATM's four studio albums as well as previously unreleased tracks spanning the band entire repertoire.