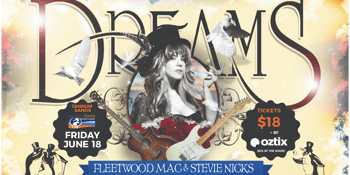 Tannum Sands Hotel presents
Dreams - Fleetwood Mac & Stevie Nicks Show
Tannum Sands Hotel (Tannum Sands, QLD)
Friday, 18 June 2021 8:00 pm
Dreams returns to The Tannum Sands Hotel south of Gladstone Friday 18th June for a massive 2 hour PLUS ++ show!
"Had a great night with my missus at the Tannum pub right up front. We just saw Stevie [Nicks] and the [Fleetwood Mac] band in August and I wasn't prepared for the talent that came out of this group! Absolutely fantastic, great atmosphere. Thanks for coming to our local pub!"
( Magen Lynn, Tannum Sands , QLD - Dec 9, 2019 )
"Fun fun fun. Best band Tannum pub has ever had. Absolutely love them"
( Tanya Joyce, Boyne Island, QLD - Dec 8, 2019 )
You will re-live one of the legendary bands and performers of the seventies and eighties, and one band Australians love - Fleetwood Mac and Stevie Nicks. Featuring a well oiled & talented group of musicians dedicated to the task of bringing this era, this sound to the stage for all to enjoy.
Great harmonies + big guitar leads + all those iconic songs of this legendary band >>> Go your Own way + Gypsy + Edge of Seventeen + Rooms on Fire + Say you love me + Everywhere + Sara + Dreams + Seven wonders + Rhiannon + Little lies + You make loving fun + Don't stop + Little lies + Gold + Gold dust woman + Songbird + I don't want to know + Big love + Landslide + The chain + Hold me + Stop draggin' my heart around + Many more!
RECENT REVIEWS
"Last night at Dubbo RSL the place went wild. The whole band were fantastic. Can't wait for them to come back. Do not miss the opportunity to be blown away when this group hits your town. Thank you so much."
( Lynne Margaret McDougall, Dubbo, NSW - Jan 26, 2020 )
"Best tribute band I've been to see. Great energy, excellent vocals and first class musicianship. [Lead singer] is sooo good, clear diction and perfect interpretation of Stevie Nicks. Thank you for such an entertaining show."
( Annette Priest - Orange, NSW - Jan 25, 2020 )
"Wow what a great night your band were beyond amazing. I was taken to another place where I was able to switch off and feel so much love and happiness. You were so inspiring - each one of you performed so well and truly gave it your all. I loved how you applauded and encouraged each other and the crowd. Thank you for such a great night highly recommend everyone see this band''
(Trudi Redman - Armidale, NSW - Feb 1, 2020)
"Absolutely fabulous. Don't miss them if they're anywhere near you. Thoroughly recommend."
( Kelli Thurston, Bundaberg, QLD - Dec 11, 2019 )
"Saw this band Saturday night at Gladstone. Omg what amazing stage presence and talent of the musicians. They should be very proud of themselves. The best rival band I have seen for Fleetwood Mac and Stevie Nicks. If you hear that the are playing in your town go and see them as you will be in for a awesome night of amazing music."
( Diane Ferguson, EMU PARK, QLD - Dec 9, 2019 )
"Great energy, vocals are amazing. Close your eyes you might well be at real thing. This group are awesome and we loved the show. They rock.
Best night at the RG Gladstone evaaaaa!!!!!"
( Cathy Twiner, Gladstone, QLD - Dec 8, 2019 )
"What an awesome night. Very professional and entertaining show. If you didn't know any better you would think you were at the Real Concert. It was so great to see so many people
enjoying the nights entertainment. "
( Graeme Beard, Manager, Rock Glen Hotel, Gladstone, QLD - Dec 9, 2019 )
For more on DREAMS visit
www.dreamsshow.com.au