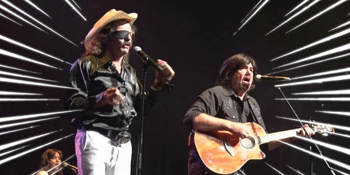 Presented By Fitzy's Loganholme
Hooked - Dr Hook & The Medicine Show Tribute
Fitzy's Loganholme (Loganholme, QLD)
Friday, 19 February 2021 8:00 pm
Hooked - About the Show
The concept of the show really was not all of Steves idea….. back in 2013ish, Steve had this brain wave of starting yet another tribute show of a band he always loved…. Daddy Cool.
He spoke with a colleague of his who then was the entertainment manager of a great club on the Gold Coast.. Steve Cummings, who suggested to him.. had he thought about doing Dr Hook? well Steve said of course no. So with the aid of Cummo, Steve became Ray in a very small attempt at doing a Dr Hook duo.
Well Cummo booked our one and only gig which was interesting, as it was just Cummo, Steve a set of congas and a computer for tracks.
They both never spoke about redoing it again. However now Steve had the bug.
Already a well known accomplished drummer he now had the bug to push it forward.
Well after some six years later… it went from a simple support act of five songs in front of the major acts band to what is now…… a six piece LIVE band.