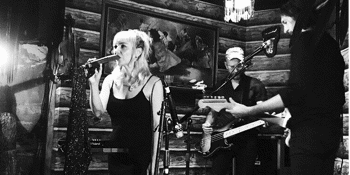 POSTPONED - It's Magnetic Album Launch
with Primitive Motion and Adele and The Chandeliers ( 7 inch single launch)
The Bearded Lady (West End, QLD)
Sat 21 March - Thu 1 October 2020 8:30 pm
POSTPONED - NEW DATE TO BE ANNOUNCED
IT'S MAGNETIC are Mia Goodwin, Ben Ely and Jamie Trevaskis.
They deliver their sophomore self titled album on this night.
Their sound - primitive drum and bass textures nod to early Cure albums while gutterel yet ambient guitars swell in, out, around the longingly humid and emotive vocals.
IT'S MAGNETIC will be graced with the presence of ADELE AND THE CHANDELIERS launching their first 7 inch vinyl, and lo fi jewels PRIMITIVE MOTION.
Your night became eclectic.
A celebration of Brisbane music proudly hosted by The Bearded Lady.
More about the bands-
Adele & The Chandeliers had a busy year last year, writing and recording and finessing their style. Now with the new year in hand, bass and lead vocals Adele Pickvance, drummer and vocals Ash Shanahan and Scott Mercer on guitar and vocals have songs aplenty and are ready to release their first 7inch vinyl.
With their natural take towards post-punk, no wave, pop and rock, the new songs are edgy and colourful and the band is ready for full flight.
Primitive Motion is the collaborative project of Brisbane artists Sandra Selig and Leighton Craig. Over the past decade they have recorded an extensive body of work, with seven albums released to date. As a live entity, Primitive Motion's performances range from fuzzy motorik songs to extended improvised ambient works and video projection. Who knows what you'll get!