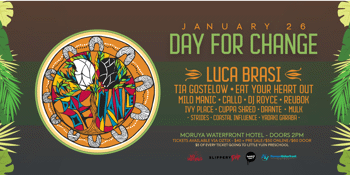 No Worries, Slippery Dip + Rumour Has It present
Day For Change
with Luca Brasi, Tia Gostelow + more
Moruya Waterfront Hotel (Moruya, NSW)
Saturday, 26 January 2019 2:00 PM
The 26th of January is the one day of the year that divides our communities in a very negative way. No Worries Festival, Paradise South Crew, Rumour Has It and the local Aboriginal Community are working together to create a new sense of peace, harmony and unity within our wonderful Far South Coast. Our vision is to create a space where both indigenous and non-indigenous musicians are free to share their music, stories and unique journeys, to help us recognise our past and to acknowledge the traditional owners of this land and also help us take a step into a bright future in unity, together, as one.

$5 from every ticket will be donated to the Little Yuin Preschool to start a monthly music program for indigenous children. We will be starting things with a smoke ceremony on entrance. Once lunch is over we will begin the welcome to country followed by traditional dance displays by two indigenous families local to the area. Through- out the day in between acts we will be displaying indigenous art and dream time stories on LCD screens on the main stage. This will be a family friendly event until 7pm which kids will be provided with face painting, jumping castle and other fun activities.

We have an amazing day full of national touring artists and local home grown talent.

Luca Brasi
Tia Gostelow
Eat Your Heart Out
Mild Manic
Callo
DJ Royce
Reubok
Ivy Place
Cuppa Shred
Daante
Mulk
Strides
Coastal Influence
Yadaki Garaba

Come along and be a part of a positive change.