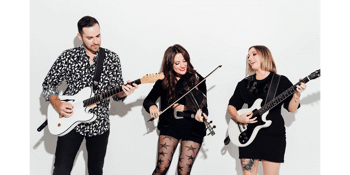 Hinterland
Robbie Bostock
Moonshiners Honky Tonk Bar (Tamworth, NSW)
Friday, 21 January 2022 7:00 pm
One of Australia's most exciting new country groups HINTERLAND make their Tamworth Country Music Festival debut as a group at Moonshiners on Friday 21 January, 7pm. Their first single, "In The Hinterland" kicked major goals for the new band. It reached #2 on iTunes, #1 on 2TM in Tamworth and #8 overall on Australian country radio. The accompanying video amassed over 10,000 views in 24 hours on Facebook and was quickly added to high rotation on CMT.
Their second single, "Turbulence", showcased their Celtic influences with Rachel on the violin and lead vocals. With another jaw-dropping video clip filmed during covid lockdown, Turbulence was another top 20 hit and high rotation addition on CMT.
Just 6 months after their debut single they dropped their EP, "Loud", along with the single of the same name. "Loud" was another Top 20 country radio smash, but in March of 2021 they were propelled to stardom all over Australia after a mainstream national radio play on Triple M. The 4-month-old EP and single shot to the top of the iTunes charts - #1 Country Album, #2 single and eventually #1 across all genres. Their social media accounts and YouTube channel blew up with new fans and it was like the journey was beginning all over again.
As individuals, Jesse, Rachel and Robbie have experienced great success in their collective careers and are some of the most decorated and well-respected musicians and songwriters. Each member of Hinterland is a "triple threat" – a singer, songwriter and master of their instrument. Rachel Bostock is one of the most revered violinists in Australia and a 3 x Golden Fiddle Award winner. Robbie Bostock just recently won a National Songwriting Award for an original instrumental and has toured the world playing guitar on the biggest stages with some of our huge homegrown talent. Jesse Emmanuel also has an APRA Songwriters Award under her belt and co-writing credits on Taylor Moss' huge hits "Let Me Be" and "Ain't No Girly Girl". Previously they have opened for Troy Cassar Daley and Jimmy Barnes under the collaborations of The Bostocks and The Daisy Dukes.