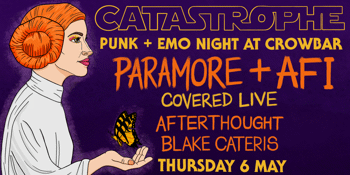 Catastrophe Punk + Emo Night
With special guests, Afterthought & Blake Cateris
Crowbar Sydney (Leichhardt, NSW)
Thursday, 6 May 2021 8:00 pm
Catastrophe Punk + Emo Night at Crowbar - May
Celebrate emo royalty with a tribute to Paramore and AFI at Crowbar, plus originals sets from Afterthought and Blake Cateris.
Paramore covers
AFI covers
Afterthought
Blake Cateris
It has been years since Paramore toured Australia, so Crowbar-loving Sydney musicians are getting together to cover songs by the emo legends. Expect to hear a lot of the pop punk Riot and Brand New Eyes tracks, along with some newer Paramore hits.
Members of Whispering Jackie and Birthday Raven and teaming up to tackle AFI songs, from the hardcore punk early days, all the way to their emo anthems.
Afterthought, will be playing their own brand of catchy and energetic pop punk, and Blake Cateris (from Molly and the Krells) will be opening the show with an acoustic set.
Thursday 6 May
Crowbar Sydney
345 Parramatta Rd, Leichhardt
Limited capacity
Tickets $20
8pm
crowbarsyd.com