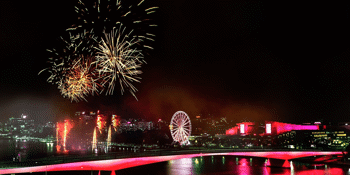 Three Blue Ducks Brisbane
Light Up The Night
Three Blue Ducks Brisbane (Brisbane, QLD)
Saturday, 28 September 2019 5:30 pm
Set your night alight at Three Blue Ducks this Riverfire with a mouth-watering spread of locally sourced produce cooked up on the wood fired oven and grill, killer cocktails, flowing bubbles, beer, wine and live tunes with the ultimate riverside viewing deck to watch the spectacular fireworks display.
Date: Saturday 28 September 2019
Time: 5:30PM – 8:30PM, with the fireworks display kicking off from 7PM. Keep the party going with cash bar and snacks available afterwards until late.

MENU

Grazing Stations
Sweet potato hummus, charred onions, smoked paprika, sesame

Baba ghanoush, smoked almonds, parsley, sumac

Fava bean & anchovy dip, charred peppers, pepita dukkah

Selection of crudité, sourdough, lavosh, breads from the wood oven

Smalls
Whipped goat's cheese, burnt honey, shaved pear, wild rice, buckwheat lavosh (gf, v)
Spanner crab, celeriac, avocado, quinoa cracker (gf, df)
Venison tataki, smoked blueberries, macadamia miso, spent sourdough (n)
Bigs
Roasted beetroot, stracciatella, braised beetroot leaves, walnut salsa (n, v)
Smoked salmon rillettes, witlof, salmon roe, dill (gf)
Fermented chilli glazed chicken skewers, yoghurt (gf)
Roasted pork belly, smoked parsnip purée, slaw, fennel granola
Dessert
Warm coconut custard, black cacao sorbet, blood orange, rhubarb, toffee sesame passionfruit (gf, df, v, vg)
Caramelised chocolate mousse, parsnip cream, smoked pecan crunch, Corella pear (gf, n)

DRINKS
Sparkling Wine
Bubbles & Co

Cider
Willie Smiths Organic Apple Cider

Beer
Newstead Brewing Co. Session Ale
Stone & Wood Pacific Ale
Young Henry's

Wine
2017 Quealy Pinot Grigio, Mornington Peninsula, VIC
2017 Marq Wild & Worked Sauvignon Blanc, Semillon, Margaret River, WA
2017 Quealy Pinot Noir, Mornington Peninsula, VIC
2017 Urban Winery Project Vinteloper, Shiraz Orange, NSW

Cocktails
Lavender & Berry - vodka, lavender liqueur, mixed berries, watermelon, lime
Ducks Rosé Spritz - Riot Wine Co Rosé, Aperol, sparkling wine, soda

Tickets are non-refundable. Must be 18 years or older to attend.