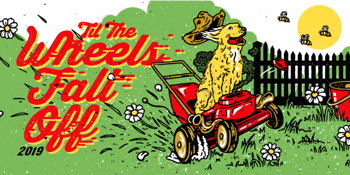 Vibestown & Overwhelmed Presents
Til The Wheels Fall Off '19
Luca Brasi, Dear Seattle, Ceres, Hatchie + Many More!
Launceston Workers Club (Launceston, TAS)
Fri 1 - Sun 3 November 2019 8:00 PM
'Til The Wheels Fall Off is back for its sixth year running, and it's going to be epic! TTWFO is the brainchild of Tyler Richardson and Patrick Marshall from Tassie punk rock export Luca Brasi.
The first incarnation of TTWFO ran in October 2014 in Launceston, beginning with the simple notion of bringing their best mates and favorite bands together for a weekend-long Tassie party.

With the success of the inaugural festival exceeding any expectations the boys could possibly have had, the festival has now grown to sell out for the last 4 years running in record time with a crowd of people you could only dream of at your festival.

The 2019 schedule sees a three-night, four-show event including acoustic matinees, hectic after parties and one hell of a good time.
For the fourth year running, Overwhelmed (Luca Brasi) and Vibestown Productions (Party in the Paddock) have joined forces again to deliver one hectic weekend of true Tassie madness..