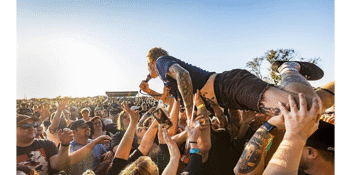 Arrest Records Australia presents
Evergreen Terrace
Crowbar Sydney (Leichhardt, NSW)
Monday, 28 November 2022 8:00 pm
In 1999 a Simpson's title inspired named band Evergreen Terrace formed in Jacksonville Florida. Evergreen Terrace took on the world with their combination of melodic hardcore, metal and punk - rock strains. After Seven full length releases alongside Eps, splits and compilations. They were a favourite to Australia's shores many times.

For nearly a decade they slowed down and and were absent from our shores. Well that is about to change. Evergreen Terrace return to Australia this coming November/ December 2022. Covid took away from punk and hardcore fans what they love but Evergreen Terrace will not disappoint in many intimate venues. Bring on the sweaty sing alongs to one of Australia's favourite Florida imports. Tickets will sell fast especially with some venue sizes so don't miss out its been a long time coming since originally planned for 2020. But now we can celebrate life beyond what was uncertain for so long.


This is an 18+ event. Do not purchase tickets or attempt to enter the venue or front bar for this event if you are under 18. All patrons will be required to show NSW Government approved and valid form of ID upon entry.