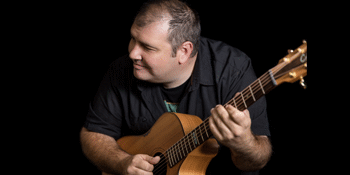 Rhythm Section presents
Lloyd Spiegel Duo 'Cut and Run' Tour
with Minnie Marks
Imperial Hotel Eumundi (Eumundi, QLD)
Sunday, 1 December 2019 7:30 pm
Lloyd Spiegel Duo 'Cut and Run' Tour
Acoustic Blues master Lloyd Spiegel is proud to announce the release of his 10th album 'Cut and Run' and is headed out on a mammoth Australian tour to get people acquainted with the new tracks, and is not a s how to miss for those who love incredible guitar playing, great songs and the odd tall tale.
As Lloyd celebrates his 30th year on tour in 2019, he can't recall a time before playing guitar. Picking up the instrument at age four, Lloyd played his first professional show at age ten and was touring the east coast of Australia at 12.
By 16 he was on tour in the United States, cutting his teeth as a true travelling blues man.
Lloyd's travels not only honed his craft, earned him a swag of awards and brought him to take counsel with the founding fathers of modern blues - it taught him the most important part of being a blues musician: connecting with everyday people.
Lloyd has toured extensively throughout Australia, New Zealand, the United States, Canada, Europe and Japan, viewing himself as a social worker more than anything else - someone to help people forget about their worries for a few hours and put a smile on their face.
'Cut and Run' is the final part of an unexpected trilogy about personal redemption Lloyd didn't even realise he was writing until it was finished. Where previous albums 'Backroads' and 'This Time Tomorrow' had Lloyd asking questions and begging forgiveness for the sins of his past, on 'Cut and Run' he has found the tenacity to face the next chapter of his life.
First taste of the album is lead single 'Track Her Down', a deep and soulful blues number about the fleeting, yet precious, nature of connections he makes with people on the road and the fragility of personal relationships for a travelling musician.
https://www.facebook.com/lloydspiegelmusic/
https://www.instagram.com/lloydspiegelmusic/
https://twitter.com/lloydspiegel
https://www.youtube.com/user/lloydspiegelmusic
https://open.spotify.com/artist/5KlwRKz0MwwwdUnZ3c0sR7
Watch lead single Track Her Down' on Youtube: https://www.youtube.com/watch?v=ICapv_Y_FrQ
NB: THIS IS A SEATED EVENT
Minnie Marks
Minnie Marks is not just some blazingly electrified acoustic guitar playing freak of nature, but also a rare and triple threat: Singer, songwriter and multi-instrumentalist.
This young troubadour has been eating up girl bands since 1994 playing what she calls dirty sweet, riff rock around the globe.
This bombshell explodes on stage pushing the limits of her guitar, powerhouse vocals and performance, kicking butt and playing to packed out shows, leaving little doubt everybody is touting her as 'the next big thing'.
2019 has proven to be a massive year for Marks' as she dropped her first single 'THE PEACOCK' in January from her brand new album 'TROUBLE WITH THE TROUBADOUR' which has recieved overwhelming amounts of praise by listeners.
You have now been officially warned, Minnie's show will suck you in and take you on a dizzying, riff rock rollercoaster ride that you won't want to get off of. Be it a festival audience or a bar room packed like a can of Sardines, she DOES NOT disappoint.
"Minnie Marks, she plays guitar like nothing I've ever seen before, she sings like Janis Joplin, she's going to blow the world apart." – Kim Churchill
"Damn, I don't think I've ever seen a female shred harder than you in the flesh" - Dallas Frasca
"You rock baby, you're killing it. The world is your oyster. If I were an army lieutenant with a shirt full of medals I would give you one. You're my hero, I'm shakin' in my boots. One word, PRODIGY!" - Sarah McLeod (The Superjesus)