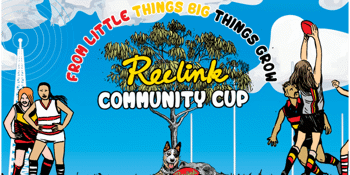 Reclink Australia Presents
Hobart Reclink Community Cup
Queenborough Oval (Sandy Bay, TAS)
Sunday, 18 August 2019 12:00 PM
Welcome to the 4th Annual Hobart Reclink Community Cup! This year the Van Diemen Dogs (musos) are trying to break the hoodoo and get their first Cup win, while the RaMONAs (media) are looking to continue into a 4-streak. Come share a sunny sunday arvo on the hill at Queenborough Oval. Bring your your best mates and your dog and enjoy a Young Henrys Natty while you cheer on the best & worst footy players the music and media industry have to offer!

LIVE MUSIC AT THE GROUND
LUCA BRASI (Pre-GAME) A SWAYZE & THE GHOST (half-time) ALL THE WEATHERS (full-time)

LIVE COMMENTARY FROM Jane Longhurst (ABC Radio/Theatre Personality) & Tubes Taylor (ABC Radio/Johnno's Sauce/Carlton tragic) and guests.
COMMUNITY CUP #HobCommCup

The Community Cup is a hard fought Aussie Rules battle featuring teams made up of local media personalities (RaMONAs) and hard-nosed musos (Van Diemen Dogs). The day is family and pet friendly, so bring your mates and your picnic blanket and don't forget to wear your colours!!

Reclink Australia
Community Cup raises funds for Reclink Australia, who use sport and the arts to enhance the lives of the marginalised and disadvantaged and targets some of the community's most vulnerable and isolated people.
http://www.reclink.org/

All Community Cup events are an inclusive space where all are welcome.
Tickets $10 online or at the gate.
Children under 15 free accompanied by an adult.

Much thanks to our 2019 family for their ongoing support: Young Henrys, Republic Bar & Cafe, Tasmanian Government, Department of Premier & Cabinet, PMLS, Corporate Communications Tas, Wylie Tiles, Hobart Airport, Bodysystem Physio.