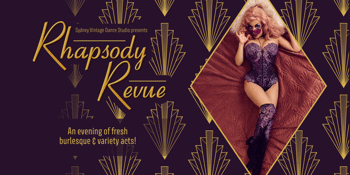 Rhapsody Revue
The Great Club (Marrickville, NSW)
Friday, 14 January 2022 6:30 pm
After a sold out debut event, Rhapsody Revue is back! Join us on Friday 13 August as we showcase the best emerging and debut burlesque, dance and variety acts in town, with a special headliner performance by Canberra starlet, Jazida!
Hosted by Sheena Miss Demeanour, you're in for a night of fun and frivolity!
Disclaimer: This event contains semi-nudity and adult themes.
Doors at 6.30 pm with our kitchen Girls Gotta Eatery open for dinner and snacks - full menu available
here