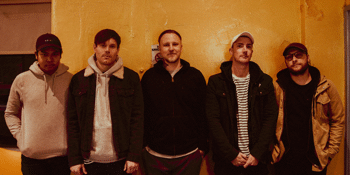 123 Agency present
Bad Juju
with special guests
West Thebby Social Club (Thebarton, SA)
Saturday, 18 August 2018 7:00 PM
Bad Juju have entered into the spotlight with all guns blazing, and with a background playing in established bands such as House vs Hurricane, Confession, Lovers Grave, and Earth Caller, it's no surprise the Melbourne quartet know how to make an entrance.
Drawing inspiration from the likes of Brand New, At The Drive In, and Turnover, Bad Juju have formulated hard-hitting 90s inspired grunge and punk rock without forgetting their original roots in the heavy scene.
"We want our band to have the impact that the bands we grew up listening to had," explains vocalist Russ. "Acts like Thrice, Citizen, and Turnover always maintained that sense of adventure and emotion – we want to make sure what we write is interesting to ourselves and hopefully others enjoy it as well."
The band's current single, 'Moving On', captured the attention of Triple J and Triple J Unearthed, securing an add to full rotation on both stations, and scoring the band a slot as Unearthed Featured Artist. Previous singles 'Bloom' and 'Run Away' have also clocked up airplay on both stations, proving the band are yet to release a lacklustre track.
Bad Juju have also been busy honing their live show, sharing stages with the likes of Dream On Dreamer, Trophy Eyes, Columbus, and The Beautiful Monument to name a few.
Now, the release of their highly anticipated debut EP 'Hidden Desire' serves as another bold step in the right direction for Bad Juju, cementing their place in Australian punk rock music amongst the likes of Dear Seattle, Luca Brasi, Endless Heights and Trophy Eyes.
In the spirit of "bad juju", the band will release their debut EP 'Hidden Desire' on Friday 13th August.