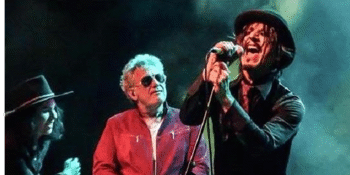 Mi-Sex
with special guests
Royal Hotel Queanbeyan (RHQ) (Queanbeyan, NSW)
Thursday, 5 December 2019 7:45 pm
---
DINNER & SHOW PACKAGES
---
Dinner service commences at 6.00pm. General Admission Entry at 7.45pm

Dinner & Show packages include entry and a two course meal (Entrée & Main), alternate serve.
*Shared table seating: 1, 2 OR 3 people ticket holders are seated together*
Please note: this show will have limited seating and be standing only, dinner&show tables cannot be joined together on the evening and dinner will be allocated in multiple rooms separate to the show. Each below purchase option will allow you to buy one whole table. Tables may be place together to suit numbers. If you require more than one table per purchase please call our customer service team on 1300 762 545.
Special Needs Booking Information
For special needs bookings (including specific dietary requirements) please contact the venue directly on (02) 6297 1444.
Online Ticket Availability
Dinner & Show sales close at 12pm on the day prior to the event.
Show Only sales are available up until 4pm the day of the event. Door Sales are subject to availability
Party like it's 1979 when Mi-Sex bring their mammoth live show and unique blend of rock meets new wave, meets punk meets disco, to the ROYAL HOTEL for one night only – Saturday 10 August – with very special guest. LIV LI (AKA Amber Nichols).
Celebrating 40 Years of Graffiti Crimes, Mi-Sex live will deliver all the hits from their award-winning debut LP – 'Compu-pu-pu-pu-pu-pu-pu… Computer Games', 'But You Don't Care' and the title track, 'Graffiti Crimes' – in a 90 minute set brandishing their many hits from the era – 'Space Race', 'People' and 'Blue Day'.
Amber Nichols started her career as the lead singer of ambient rock band, Angels Are Architects. A featured artist on MTV, AAA amassed an enormous following throughout Asia; their last ever headlining gig drawing 60,000 in Singapore alone. Yet Amber is now releasing music under her alter ego with a new project, LIV LI. An electro pop fusion, LIV LI's new single, 'Bloom', is out now.
Featuring the hit singles 'But You Don't Care' and 'Computer Games', Mi-Sex Graffiti Crimes rode the collision of punk rock, dance and disco to the top of the charts in Australia, New Zealand, Canada, Germany, Austria, and South Africa. Truly, madly, deeply, the LP became the catalyst for an entirely new era in music and fashion – new wave.
ABC's Double J embraced new wave and Mi-Sex became regular guests on Countdown, which saw the group shoot to #1 with 'Computer Games', before rounding-out the decade with its landmark performance at the Sydney Opera House – revered by those of the era as the 'Concert of the Decade'.
Early the following year, Mi-Sex Graffiti Crimes scooped the 1980 COUNTDOWN / TV WEEK MUSIC AWARDS with 4 gongs in all: Best/Most Popular Single (Computer Games), Best Album (Graffiti Crimes), Best New Talent (Mi-Sex), and Best Production (Peter Dawkins/Graffiti Crimes).
#BringBackTheBush with #Mi-Sex-Live-Sex for a party bold enough to channel '79 all over, all 'round...
Friend us on Facebook @MiSexMusic
Follow us on Instagram @misexlive