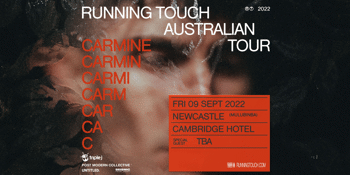 Post Modern Collective, Seismic Talent, Untitled Group & triple j presents
Running Touch
With Special Guests
The Cambridge Hotel (Newcastle, NSW)
Friday, 9 September 2022 8:00 pm
Post Modern Collective, Seismic Talent, Untitled Group & triple j are pleased to present Running Touch's long-awaited "CARMINE" Australian Tour 2022
Following an incredible summer festival run, hitting Wildlands, For The Love, and more the Melbourne-born showman brings his headline tour across Australia ahead of his debut album "Carmine".
Carmine - a record about violence and love establishes the much-adored Australian artist as a world-class storyteller, a fearless innovator, and a master of atmosphere second to none in Australian electronic music.
Brimming with grit and glamour, the Carmine tour represents the beginning of a new chapter for the enigmatic artist: the advent of Running Touch's second life as a juggernaut of intelligent, heart-rending dance music.
Be prepared to be enthralled by the powerful on-stage presence of Running Touch this May & June. Tickets will sell quickly, so ensure you secure your spot now.