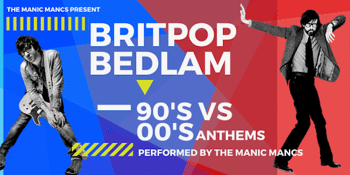 The Manic Mancs present
BRITPOP BEDLAM
Saturday, 20 November 2021 8:00 pm
THE MANIC MANCS PRESENT BRITPOP BEDLAM – an evening of classic 90's & 00's UK anthems.

The time for our once a year BRITPOP extravaganza is here again! The lads who brought you The Stoned Posers and Madchester Mayhem are throwing a pure Britpop party.

This is one of our favourite shows and we invite you common people to relive the best tunes of the '90s and 00's and get your rocks off dancing to classics from Kaiser Chiefs, Stone Roses, Kasabian, Blur, Pulp, Oasis, Arctic Monkeys, Primal Scream, Supergrass, Suede, Franz Ferdinand, The Manic Street Preachers, Elastica and more.

Girls and boys, take yourself out for an unforgettable night of indie and alternative Britpop anthems that made you go mad for it back in the day. We'll be spinning cracking tunes and forgotten classics to celebrate these magical music decades, proving modern life isn't rubbish.
We bet you'll look good on the dance floor.