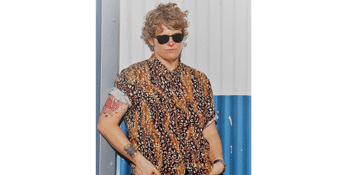 Kristy Apps Album Fundraiser
with The Goldhearts & Sarah Stockholm
The Bearded Lady (West End, QLD)
Saturday, 18 April 2020 8:00 PM
Kristy Apps has been a celebrated Brisbane Singer/Songwriter for almost 2 decades. Whether you have seen her perform in a bar or at a festival her authenticity, commanding vocals and driving guitar rhythms are unmistakingly her own.
Her love for community is apparent at every show whether you are a muso sharing the stage or an audience member.
This year marks the release of her 5th studio album 'Take Heed'. Produced by Brisbane legend Jeff Lovejoy, Kristy described this album as possibly her best work to date. "I feel so in my skin and present in my music right now, it's so exciting to have that kind of energy in the studio"
Come along to The Bearded Lady on April 18th and pre purchase a copy of her new album and show your support of this local singer/songwriter. First 100 vinyl records will receive a copy of the album on CD and digital download. Joining her on the line up are The Goldhearts (ex Dream Poppies) and Sarah Stockholm. Prizes, Raffles and heaps more!!