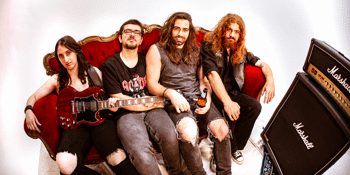 Avalanche w/ Spoonhead & The Meantime | 'Second Hand Band' East Coast Tour | Newcastle
The Hamilton Station Hotel (Islington, NSW)
Saturday, 24 July 2021 8:00 pm
Starting this May, West Sydney Hard rockers Avalanche are on the road again for a massive, 4 month long tour on the back of their latest single and EP release, 'Second Hand Band'. The whole East Coast of Australia won't be safe from their raucous, energetic live show. What to expect? Blood, sweat and piss, but most importantly of all, a good bloody time!
If you've ever thought that rock n roll is dead, or new music has nothing to offer, prepare to reconsider and be ready for a bit fat shot of rock n' roll direct to your ear holes from Avalanche and their good mates; some of the loudest, heaviest and meanest bands in the scene today!
Joining them at Hamilton Station Hotel in Newcastle will be Spoonhead and The Meantime!
Tix just $15. Limited cap so get in quick!
LISTEN TO 'SECOND HAND BAND' NOW:
https://orcd.co/avalanche-secondhandband-single
FULL EP OUT MAY 11 // PRE-ORDER NOW ON:
BANDCAMP:
https://avalanche2018.bandcamp.com/album/second-hand-band
DEAD PULSE:
https://deadpulse.com/product/avalanche-second-hand-band/
STREAMING SITES:
https://orcd.co/avalanche-secondhandband-ep
The Meantime:
Australian hard rock/alt rock trio from the Central Coast, twisting punk, indie and grunge into a unique yet classic sound.
Spoonhead:
local legends who formed in 2019, playing shows up and down the east coast, including a packed headline show at The Cambridge Hotel to start 2021. Their raw, heavy and unique sound is influenced by bands like The Melvins, Tool & Helmet and can't be bloody missed!
Avalanche:
Avalanche are a 4 piece hard rock band from Western Sydney playing heart-racing, gut busting, roof crashing, piss-off Rock 'N Roll sent directly from the devil himself ... to brighten your day.
They first started playing and rehearsing together in a steel factory after work, and after just 2 short years, they've firmly cemented themselves into the sticky floors of the national underground scene, with several releases, major national & international airplay, their own music festival, and a signature sound & live show which routinely leaves the audience covered in blood, sweat and spit.
Now, the band are proud to present their 5th ever single and 2nd EP release, titled; 'Second Hand Band', a loud and lewd 6 track EP; featuring stand-out singles from 2020 'Permanent Ink', and 'Get Back (To Fuckwit City)', and a follow up to their 2019 debut-double EP, 'Sent From Hell', which has seen over 1300 physical copies sold worldwide.
This is hard rock. As only 20-somethings from Sydney's West; famous for producing tradies, drongo's and long arse Centrelink queues; can do. The ultimate statement of a young Aussie rock band; thoroughly used, gently bruised and in somewhat working order... like a second hand sex toy you might find on Gumtree; all for your pleasure.
Imbued with the influence of their dad's record collection and the dirty pub rock of Australia's past, but played through the interpretation of their own generation. Just wait til' you get this up ya.
The band is made up of the sheer force of nature that is lead vocalist and bassist Steven Campbell, pictured; shirtless (always). The tall, dark and aggressively powerful lead guitarist, Veronica 'V' Campbell, often seen playing on the floor, in the crowd, and even in the toilet. The arse-tight Ryan Roma aka 'ADHD' on drums, and rhythm machine and life of the party (ask your girlfriend) Arthur Divis on rhythm guitar. Together, Avalanche continue their bloody, sweaty on- stage rampage, giving no f/ks and winning new fans every time they play.