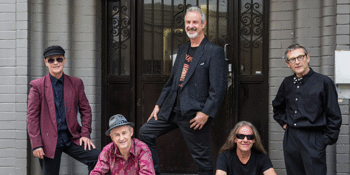 The Tea Gardens Hotel & Great Northern Mid Strength present
GANGgajang
with special guest Finn
Tea Gardens Hotel (Tea Gardens, NSW)
Tuesday, 31 December 2019 8:00 pm
Fashions come and go in the world of music. A song may be a hit for a few weeks but then it's gone and the band is never heard of again. Occasionally, an enduring sub-culture will adopt a band, and their music becomes the soundtrack of their life. They pass on their love of the music to the next generation, the bands become legends and their music never dies. GANGgajang is such a band.

Renown for the perennial Sounds Of Then (This Is Australia), GANGgajang has been part of Australia's cultural fabric for over 30 years beginning with their debut single in November 1984. It was the mid 1980's surf culture who first adopted the band when songs from their debut self-titled album became the entire soundtrack to Quiksilver's seminal surf movie Mad Wax. Surfers would describe GANGgajang's distinctive groove and sound as a seamless soundscape to the rolling waves.

Catch the band at an exclusive New Year's Eve event at Tea Gardens Hotel. Doors open 7pm.