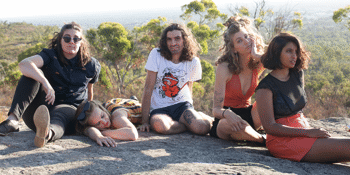 Hussy - Double Single Launch
with special guests Cuss, Dennis Cometti, Lana Rothnie Quartet plus the Hussy DJs
Saturday, 21 September 2019 8:00 pm
In 2019 you will, cause local punk-rockers HUSSY are taking to the Badlands stage on Saturday 21 September to release two brand-spanking-new singles, Godmode and R&R, off their upcoming debut album, "Watch Me Be Anyone".

The singles reflect the relief you feel when you're alone, quiet, and feeling a little existential. Whether you're nursing a hangover in the shower, making your fifth coffee at work, or you're simply staring into a mass void while waiting for the bus – these songs feel you; they don't judge, and they're here to help.

Joining HUSSY on their Double Single Launch is Lana Rothnie Quartet, Dennis Cometti, and Cuss, with HUSSY's iconic disco/2000s pop playlists keeping punters heads bopping in-between bands and late into the night.

Pre-sale tickets are available now from Oztix for $10, otherwise door tickets are $15.

Round up your mates, see if your nan is free and bring your whole street down to Badlands Bar on Saturday 21 September for a serious night of dancing, singing, and emotion-feeling, with your favourite Huss-Bags!