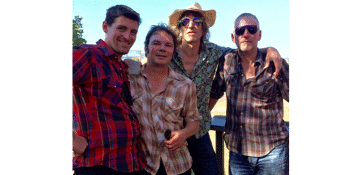 Mick Daley's Corporate Raiders, Blown Cones & more to be announced soon!
Swamplands Bar (Thornbury, VIC)
Saturday, 20 November 2021 8:00 pm
Long Weekend Special! Featuring the rockin' sounds of MICK DALEY'S CORPORATE RAIDERS,

Best known as frontman and songwriter for hard-travelling band The Re-mains, and after twenty years on the road through Australia, Canada and Europe, Mick Daley has taken a turn for the verse with a swag of new solo picking songs. Reared on Bob Dylan, Van Morrison, Townes Van Zandt and Nick Cave, these songs bear their lyrical and musical hallmarks, by turns tender and savage.

Doors at 3pm. $15 + b.f.