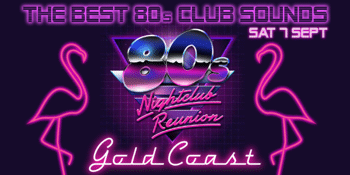 E.M.U Unlimited
80s NIGHTCLUB REUNION - Gold Coast
80s Club Dj's Les-Boss, K-Rasta + More
Melbas (Surfers Paradise, QLD)
Saturday, 7 September 2019 7:00 pm
80s Nightclub Reunion
The Best 80s Club Sounds Returns To The
Gold Coast and Back To Melbas
Queensland's best 80s club night "80s Nightclub Reunion" returns to the Gold Coast on Saturday the 7th of September to one of the most iconic venues of the 80s in Surfers Paradise and this time we know it's for real. E.M.U Unlimited is bringing the Best 80s Club Sounds up where we belong "MELBAS ON THE PARK" with one massive party for a night of reminiscing the glory days and dancing. Do you remember the greatest nights of your life on the glorious Gold Coast, the music, the people and of course the good times? Dancing the night away at your favourite clubs like MELBAS, TWAINS, COCKTAILS & DREAMS, THE PENTHOUSE, BENSONS, FORTUNES & so many more? Well gather your friends from the 80s and cel-eb-rate good times for THE TIME OF YOUR LIFE . . . AGAIN!
80s Nightclub Reunion at Melbas On The Park will be bringing you The Best 80s Club Sounds with 80s Club Dj's Les-Boss, K-Rasta & More to be announced, who collectively have a history of throwing some of the biggest club parties and dance music events since the early 1980's, plus the fabulous 80s Solid Gold Dancers by Legs 11 Entertainment will be bringing their razzle to dazzle you throughout the night.
Get into the groove and Dress as The 80s Star That You Are as 80s NIGHTCLUB REUNION steps back in time on SATURDAY the 7th of September at Melba's On The Park, Surfers Paradise, Gold Coast
Tickets to 80s Nightclub Reunion at Melba's On The Park 7pm – 3am are $25.00 plus booking fee available online via Oztix and *$30.00 on the door (*unless sold out or if room permits on the night) Tickets are limited and this event will sell out.
80s Nightclub Reunion TICKETS ON SALE NOW via OZTIX
PHOTO ID REQUIRED FOR ENTRY AFTER 10pm
Door open at 7pm with an 80s Classic Cocktail Happy Hour as the Dj's give you a night of 80s Pop Rock New Wave Funk Disco Groove.
Melba's On The Park – 46 Cavill Avenue, Surfers Paradise, Gold Coast
Facebook: https://www.facebook.com/80snightclubreunion
Facebook Event:
Instagram: @WEARE80S - #weare80s #80snightclubreunion #backtomelbas #melbassince1981
For more information contact Les Kostoglou on 0457322984 or email: leskostoglou@gmail.com